The protection of your personal data is important to us. We would therefore like to inform you here about what data we store when you visit our website, why we do this and when the data is deleted again. Personal data is all information about a named or identifiable person. This includes, for example, the name, address or telephone number, but also the IP address of the computer with which you call up our website.
Responsible for the processing of data collected on our website is: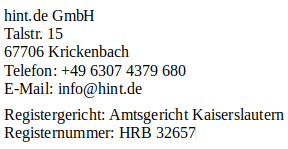 Data protection officer
Contact details of our data protection officer: datenschutz@sylphide.de
Technical data
When you access our website, general data and information is stored in the server's log files. The following data may be collected:
Information about the browser type and version used.
The user's operating system
The user's Internet service provider
The IP address of the user
Date and time of access
Websites from which the user's system accesses our website
Websites that are accessed by the user's system via our website
When using this general data and information, we do not draw any conclusions about the data subject. The collection of the data is technically necessary in order to correctly deliver the content of websites requested by you and is mandatory when using the Internet. The anonymous data of the server log files are stored separately from all other personal data possibly entered elsewhere by a data subject. The processing is based on Art. 6 lit. b DSGVO. The technical data described above is deleted as soon as you leave the website. Something else only applies if we inform you in this privacy policy that the data may still be needed for other purposes (such as for an analysis). The provision of this technical data is neither legally nor contractually required or necessary for the conclusion of a contract. You are not obliged to provide the personal data. If your system does not provide the required information or does not provide it in full, this may mean that our website cannot be accessed or cannot be accessed in full.
Cookies
We don't use any cookies! This is a static website.
Webalizer
Based on the technical data, we use the tool "Webalizer", a web analysis software for statistical evaluation of users' access to our offer. The generated statistics regularly contain the following information: Requests, visits, referrals, countries of origin of the requests and the amount of data delivered. These statistics can be viewed both graphically and textually and are displayed on different time scales (hours, days, months, years). These evaluations are not merged with other data sources, especially with personal data. The information generated is processed by our provider on a server in Germany. A transfer to third parties does not take place. The processing is based on Art. 6 para. 1 lit. f DSGVO. We have a legitimate interest in assessing the scope of use of our offers on the Internet and to design them according to demand. We delete the data as soon as it is no longer required for statistical purposes, but after 14 days at the latest. The provision of your data to Webalizer is neither legally nor contractually required and is not necessary for the conclusion of a contract. You have the right to object to the processing of personal data concerning you at any time on grounds relating to your particular situation. If you object to processing, this will not have any consequences for you.
Right of information, rectification and deletion
You can request information from us about what personal data we have stored about you and what we do with this data. If data has been recorded incorrectly, you have the right to demand that it be corrected. You may also request that such data be deleted or used only for specific purposes. At your request, we will also make the data stored here available to you or transfer it to a third party named by you.
Revocation of consent
If we process personal data because you have expressly given us your consent to do so, you may revoke that consent at any time.
Right of complaint
You can complain to a supervisory authority. The supervisory authority locally responsible for our registered office is the Rhineland-Palatinate State Commissioner for Data Protection and Freedom of Information, P.O. Box 30 40, 55020 Mainz, Germany
Security and data encryption
Our website uses technical and organizational security measures to protect the data we have under our control against accidental or intentional manipulation, loss, destruction or against access by unauthorized persons. Our security measures are continuously improved in line with technological developments. Whenever you are asked to enter data about yourself, your data is protected for transmission over the Internet using SSL (secure socket layer) encryption so that it cannot be read by unauthorized persons.
Links to other providers
Please note that our pages may contain links to websites of other providers to which this data protection declaration does not extend.