In matters concerning the TMG, DSGVO and MDStV I will represented by: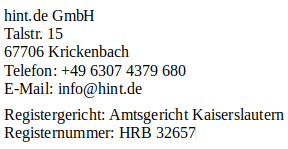 Content of the online offer
The above-mentioned provider (hereinafter referred to as provider) assumes no liability for the topicality, correctness, completeness or quality of the information provided. Liability claims against the provider, which refer to damages of a material or non-material nature, which were caused by the use or non-use of the information provided or by the use of incorrect and incomplete information, are fundamentally excluded, insofar as there is no demonstrable intentional or grossly negligent fault on the part of the provider. All offers are subject to change and non-binding. The provider expressly reserves the right to change, supplement or delete parts of the pages or the entire offer without prior notice or to discontinue publication temporarily or permanently.
References and links
The provider is not responsible for any contents linked or referred to from his pages - unless he has full knowledge of illegal contents and would be able to prevent the visitors of his site fromviewing those pages. The provider hereby expressly declares that at the time the links were created, no illegal content was identifiable on the linked pages. The provider has no influence on the current and future design, content or authorship of the linked pages. Therefore, the provider hereby expressly distances himself from all contents of all linked pages that were changed after the link was set. This statement applies to all links and references set within the provider's own Internet offer as well as to external entries in guest books, discussion forums and mailing lists set up by the provider. For illegal, incorrect or incomplete contents and especially for damages resulting from the use or non-use of such information, only the provider of the linked page is liable, not the one who has linked to the respective publication.
Copyright and trademark law
The provider endeavors to observe the copyrights of the graphics, sound documents, video sequences and texts used in all publications, to use graphics, sound documents, video sequences and texts created by himself or to use license-free graphics, sound documents, video sequences and texts. All brand names and trademarks mentioned on the website and possibly protected by third parties are subject without restriction to the provisions of the applicable trademark law and the ownership rights of the respective registered owners. The mere mention of a trademark does not imply that it is not protected by the rights of third parties! The copyright for published objects created by the provider himself remains solely with the provider. Any duplication or use of objects such as diagrams, sounds or texts in other electronic or printed publications is not permitted without the author's agreement.
Legal validity of this disclaimer
This disclaimer is to be regarded as part of the internet publication which you were referred from. If sections or individual terms of this statement are not legal or correct, the content or validity of the other parts remain uninfluenced by this fact.
Disclaimer
I have compiled the advice and instructions contained in this site to the best of my knowledge in the hope that they will help to make corsets more popular and accepted by a wider public. However, despite careful preparation of the site, errors cannot be completely ruled out. Consequently, I do not assume any responsibility or liability arising in any way from the use of the information contained in this site or any part thereof.
We are not liable for any damage to health caused by the correct or incorrect use of our information. Each person must either check or assess his or her own health suitability or have himself or herself examined by a physician in this regard before using our information.
The reproduction of common names, trade names, product names and the like in this site does not justify the assumption that such names may be used by anyone without further ado. Rather, they are often legally protected, registered trademarks, even if they are not specifically marked as such.
I thank you for your understanding and hope to be able to continue to offer you a good service.
Further remarks
My goal is the establishment of a positive corset image. Therefore, it is in my interest if as many people as possible are competently informed about the corset. However, I have invested a lot of work in the creation of this web site and also made myself available for the photos.
Therefore I lay down the following rules for the distribution of the materials. They are to be understood in the context of copyright and their violation is therefore a violation of copyright, which can be punished accordingly. Please abide by these rules. On the one hand fairness demands this, on the other hand I can only continue my work if I am not exploited!
A re-publication of my site or its parts in the internet is basically not allowed! This would lead to inconsistencies and contradicts the intention of the web not to store things redundantly. If you like my site, please include a link to it. If you find plagiarism of my site somewhere, please notify me!
For all other copies applies the following
They must be clearly recognizable as a copy from my site. This means in particular that they have to contain a reference to my website and a mention of my name.
If the copies are passed on, the conditions laid down in this text must be imposed on the recipient.
Private copies
Private copies are copies made for personal use only and may not be published in any form. Private copies are allowed and expressly desired if this promotes the dissemination of the corset and if the above rules are observed.
Non-commercial copies
Non-commercial copies are copies that are made available to other people free of charge. They are also free and permitted if the following conditions are met in addition to those applicable to all copies:
Permission to make the copy must be obtained from me. I will generally grant it if it is ensured that the publication portrays the corset in a positive light and does not have a fetishistic, S/M, TV, or other character that negatively affects the spread of the corset as a socially accepted accessory. The nature of the publication must be described and communicated to me.
I can withdraw the permission for distribution. Thereupon the dissemination must be stopped.
No modifications to the text and images are allowed without my permission.
I will receive a sample copy of the corresponding publication.
Commercial copies
Commercial copies are copies that are made available to other persons against payment. This also applies if the copies are not sold per se, but are passed on in connection with an object that is sold (e.g. as a consulting supplement of a corset distributor). They are subject to a fee, but are also permitted if, in addition to the conditions applicable to non-commercial copies, the following conditions are met:
Appropriate compensation has been negotiated and paid to me as an expense allowance.
Health
We are not liable for any damage to health resulting from the correct or incorrect application of our information. Each person must either check or assess their own health suitability or have themselves examined by a doctor in this regard before using our information.
Non-liability / non-warranty / exemption from liability
We assembled the hints and instructions in this site to the best of our knowledge and we hope that they will contribute to make the corset more popular and an accepted female accessory for more and more people. In spite of conscientious work in establishing the site we cannot entirely exclude mistakes and errors. We therefore do not accept the responsibility and any consequent liability of any kind, that results in some way from the use of information or any parts of this site.
We make no representations about the suitability of the information contained in the documents published as part of this website for any purpose. All such documents are provided "as is" without warranty of any kind. We hereby disclaim all warranties and conditions with regard to this information, including all warranties and conditions of merchantability, whether express, implied or statutory, fitness for a particular purpose, title and non-infringement. In no event shall we be liable for any special, indirect or consequential damages or any damages whatsoever resulting from loss of use, data, medical problems or profits, whether in an action of contract, negligence or other tortious action, arising out of or in connection with the use or performance of information available from the website.
The reproduction of registered names, trade names, descriptions of commodities and so on in this site does not authorise you to assume that such names can be used just like that and by everybody. On the contrary: these are often legally protected, registered trade marks, even if they are not specially marked as such.
Despite careful monitoring of the contents we do not accept liability for the contents of external links. The operators of linked sites are wholly responsible for their contents.
Thank you very much for your understanding and we hope to be able to offer you a good service in the future.